Record delivery: Children's charity KidsCan distributing more than 1.4 million food items to 718 schools
Record delivery: Children's charity KidsCan distributing more than 1.4 million food items to 718 schools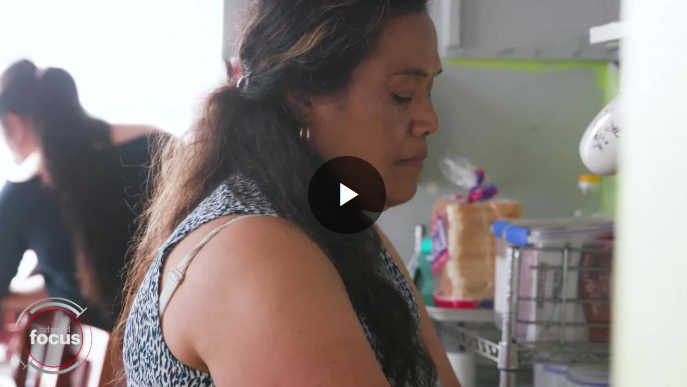 Children's charity KidsCan says winter expenses are contributing to a rise in children coming to school without lunch or having eaten breakfast.
KidsCan CEO Julie Chapman says the extra demand has led to the charity's largest ever national food distribution: more than 1.4 million items are being delivered this term to 718 schools.
A record 93,000 hot meals will also be provided.
"Winter is a really tough time for many of our families," Chapman says.
"They have the extra stress of how to afford to heat their homes, which are often uninsulated, to keep their kids warm.
"If we can give their children a hot meal at school and a warm jacket, it really helps."
Waikato-Tainui yesterday became the first iwi in the country to link up with the charity, giving $100,000 to help feed and clothe students from 23 primary, intermediate and high schools across Waikato and South Auckland.
Chapman says, contrary to what many New Zealanders think, most of the children being supported by her charity are not from sole parent families who don't have work.
"It's time that we as a country acknowledged that this is not about parents doing the wrong thing.
"Most parents are doing the best that they can with what they have - there just simply isn't enough money coming in.
"Until we fix housing, the cost of living, raise wages, KidsCan will continue to be needed."
Chapman points to 2017 Child Poverty Monitor statistics that show that of the 290,000 children living in hardship, 55 per cent are from two-parent families and 44 per cent live in households where at least one adult is in full-time employment.
"There are hundreds of reasons why a family could be thrust into poverty and it's important that we don't judge.
"We must make sure the children are well cared for, valued and get what they need so they can get a better education and hopefully not go on to repeat that cycle."
Chapman says 174,000 children nationwide now have access to the charity's food, jackets, shoes and healthcare.